After visiting the canyons we headed towards Salt Lake City to visit Gara. On her last trip to USA, Miss W tried to visit Gara but their schedules didn't work out. So this time she is determined to meet her chat room friend. We didn't realise that Thanksgiving was Thursday; we thought it was Friday and had planned to leave then so it would not interfere with Gara's plans.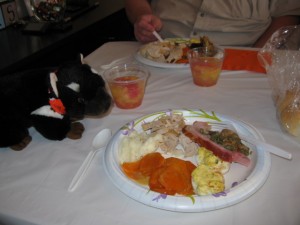 Instead, we were invited to Gara's son's in-laws for a real Thanksgiving meal. I took a photo of the meal that Miss W ate. It included turkey, ham, mashed potatoes, candied yams, green bean casserole, stuffing and cranberry sauce. (OOPS, forgot the devilled eggs which Miss W really liked) Then for dessert there was a choice of pies: pumpkin, cherry, apple, key lime as well as cakes decorated to look like Pilgrim hats and turkeys. A lovely fruit punch was also served.
While the meal was being organized, Miss W was asked many questions about our trip. We also watched some American football on the TV. Miss W learnt a new game from Stevie called "Chopsticks". She will have to teach it to her students when she gets home.
Also while in Salt Lake City, Miss W had to visit the FamilySearch Library. This is the most famous genealogical library in the world and all genealogists want to visit it some day in their life. Four storeys tall, with Australia and British on one floor including computers, microfilm and books. Unfortunately, Miss W didn't find out anything new about her two brickwalls – her English grandfather and when he arrived in Australia or her Samoan great great grandfather's native name.
After a fantastic time with Gara and her boarder, Hannah, we headed back to Las Vegas for a couple of days before visiting the last stop on our trip, Los Angeles.
Have you ever done research on your family? Do you know about your grandparents and what their childhood was like compared to yours?