activity to do
April 26, 2012
Hello from British Columbia, Canada!  We (Grade Ones) were so surprised and excited to receive Mr. Davo Devil last week!  Mr. Davo is a darling and has made a new stuffie friend, Monty the Moose!  Davo is friendly and quite quiet- lol!  The children have made Davo another pipe cleaner beaded necklace which he will wear on his travels!  As well, Davo has a Canadian Flag earring on!  Friday, we will be sending Mr. Davo off on another journey to GA, USA.  Thank you for sending Mr. Davo to us!  We learned a lot about Tasmanian Devils and made a new friend!
Mrs. Nielsen and class
xox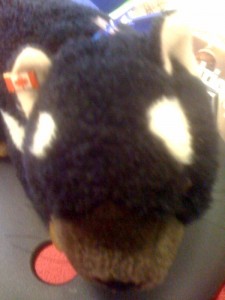 3 Responses to "We "Like" Mr. Davo Devil!"
Miss W. Says:
April 27th, 2012 at 8:38 am

Mrs Nielsen and class,
Thanks for looking after Davo. Does your friend Monty Moose ever visit student homes? Does he have his own blog about his adventures?

poulingail Says:
April 27th, 2012 at 9:08 am

I bet Davo is having a wonderful time visiting British Columbia. He's a long way from home!

Betsye Sargent Says:
June 24th, 2012 at 5:17 am

Hi Davio,
If you come back to the USA during the 2012-2013 school year, we would love to have you visit us in Salem, Massachusetts. If you come in October, we have a month-long Halloween celebration, but anytime is fine.
Leave a Reply