Another great day today and we spent it in the land of the Karri and Jarrah trees. But I missed out on the first half of the day. I fell asleep in the car and forgot to jump in Miss W's backpack. She took off for a river cruise on the Donnelly River down to the mouth on the south coast of W.A. Apparently it was a small group; a couple from Germany, a couple from U.K., a couple from Perth with their aboriginal foster daughters and then Miss W. Lots of chances to hear stories about men and their beer, women and their bathing beach and large basalt rocks from the very informative tour guide, Shaun. Morning tea out at the beach area where Miss W nearly got caught by two waves coming from different directions while she was taking photos. On the way back in the bus, Shaun stopped so the photographers could take some snaps of orchids and other typical W.A. plants.
Once Miss W was back in Pemberton, we headed to Windy Harbour. This was very similar to Trial Harbour or even Catamaran in Tasmania. A coastal beach and behind the dunes were all these shacks with a single lane road winding between them. Out to Point DÉntrecasteaux which is a very tall cliff and then taking snaps of Salmon Beach – where at the right time of year, you can see the salmon running.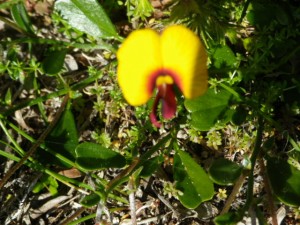 All the way back to Pemberton, we pulled over by the side of the road to take more photos of plants – met a couple who were in the same spot as when we went out to Windy Harbour. They had found some great little orchids so we tried to find some as well. Heading off to Walpole tomorrow to see the tree tops walk. Will do the Pemberton train first though, as we were too late for that today after the river cruise.