Just checked the Pemberton train timetable 10.45 leave the station was going to be too late for us to get to Albany, instead we went to the Cascades and did a small walk there. As we were going to visit many national parks on our trip round the south coast, Miss W. decided to buy a one month pass for $40. Our first major stop was the Tree Tops walk near Walpole. This is in the area known as the Valley of the Giants. The walk is about 40 metres up in the canopy of the tingle trees. It is about 400 metres long and the bridge spans sway nicely as people walk along them. There are certain restrictions on each span and at each platform area. At the end of the walk, you can also go along the Ancient Empire walk where you see lots of tingle trees with their huge empty trunks.
A café shop owner in Pemberton had said to go via the Lower Denmark road instead of following the main Albany Highway. This was a lovely drive past the West Cape Howe national park where I couldn't find any pitcher plants despite the brochures saying they were there. Drove through the main part of Albany to find the motel which was very nice, particularly the evening meal of sweet and sour pork with noodles and vegetables.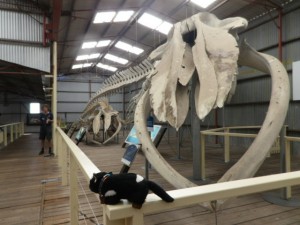 A full day around Albany, by first heading to the whaling station. This has improved since Miss W was last here. The huge whale oil tanks are now film show auditoriums. There are tour guides taking you around explaining everything, but then you can wander on your own if you want. Not sure if it was worth nearly $30 though. Lots of kids loved looking over the ship Cheyne IV but I preferred looking at the skeletons of the whales. It reminded me of the whale museum we saw near Cape Cod in America last year.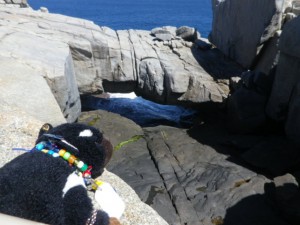 Back through Torndirrup national park where we saw the blowholes not blowing and the natural bridge rock formation. I was amazed at the number of humans walking out to the edge despite all the warning signs.  We then headed east to the main beach called Middleton – bit like Seven Mile – went up to the top of Mt Clarence through Apex Drive where trees have been planted for each soldier dying in Gallipoli. Another great meal, ready for an early start tomorrow which will be a long drive to Esperance.