As part of my visit to Washington, I got to go home with Andrew, a kindergarten Bulldog Reader! He took me to Seattle to see some of the sites there! We thought about going up the Space Needle, but I'm afraid of heights, so I said, "No, thank you!"
I had a fun time with the Bulldog Readers in Washington. Now I'm on my way back to the east coast to visit some new students!
First we went to the Seattle Center, where the Seattle Space Needle is located. you can see it in the background. The Space Needle was built for the 1962 World's Fair.
Then we went to the Pike Place Market. I got to see all the wonderful fresh food and flower vendors there. It gets really crowded with tourists!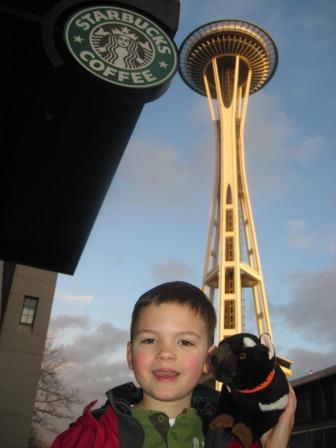 All that walking around made us thirsty, so Andrew took me to the original Starbucks Coffee shop at the Pike Place Market. I had some hot chocolate because I was a little chilly!