Squirrel:  Miss W! Miss W!
Miss W: What's the problem Squirrel?
Squirrel: Have you seen Davo since we got home to Tasmania?
Miss W: Now I think about it, he wasn't in the suitcase when I unpacked last night. Do you have any idea where he might be?
Squirrel: Well, I heard he had been talking about staying in America and Canada for a bit longer. He loved all the travelling around and thought he could hitch a ride through the postal service to visit lots of other schools that he missed on this trip.
Miss W: We need to send out an alert then on the blog to find out where he might have gone.
Squirrel: I reckon he stayed in Mrs Yollis' room somewhere. He loved chatting to Panda and Beverly.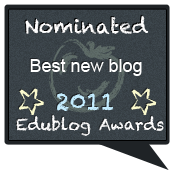 Please, please check your classrooms to see if Mr Davo Devil has hidden himself there. Please leave a comment on this post if you find him.
Also please tell him, his blog has been nominated in the Edublog Awards for best new blog. He needs to be around when the announcement is made.