Well, it's a long time since you have heard from me. I have been relaxing in Hobart with Miss W, going on an occasional outing and visiting some of my relatives. But since the beginning of October, we have been travelling again. We are in that beautiful state of Western Australia.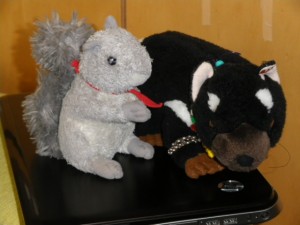 We spent the first five days staying at the Edublogs mansion (house of Sue Waters.) Miss W attended the #ACEC2012 conference all to do with computers in education. Also staying at the mansion were @murcha, @marragem, @ developit and, of course, @suewaters. Each day we would pile into the cars and head to Wesley College in South Perth ready to take part in workshops and sessions relating to computers. Those people just wanting to chat to each other or write their blog posts headed to the Space Bar – no alcoholic drinks but lots of coffee, iced water and iced orange juice. Check out who was also at the conference.
Now Miss W and I are on our own again after a fantastic time with like-minded people at the mansion. We headed south of Perth down to Bunbury the first day. Lots of lovely wildflowers out and we are trying to take lots of pictures to put a floral slideshow together. Naturally we don't always follow the main highways but branch off onto smaller roads.
It was at Harvey where we had a great stopover. We missed the Big Orange somehow but found the Visitor's Centre. Guess who used to live in this area? She probably got lots of ideas for her books about little gumnut babies while she lived in Harvey.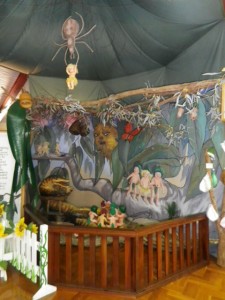 That's right!! May Gibbs and her stories of Snugglepot and Cuddlepie. The cottage she used to live in has gone, but a replica has been built and is the new Stirling Cottage where you can have afternoon teas. In the visitor's centre is a display about May's stories and in the area near the cottage is a secret garden to find.
Please leave a comment about which of May Gibbs'characters you most enjoy in her books. If you haven't read one of her books, find one in the library. They are so well illustrated.